Sustainable Basel tips
Would you like to pay a visit to Basel while keeping your environmental footprint as small possible? That's a great idea – and we have just the sustainable travel tips to provide you with inspiration along the way!
Sustainable travel
Basel is a city that is convenient to reach using environmentally friendly means of transport such as trains. Everything is right close by in the city centre, making it easy for you to explore Basel on foot or by bike.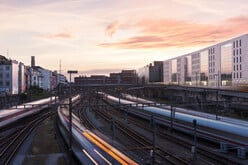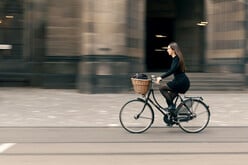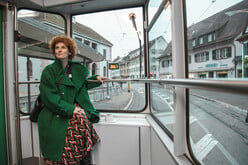 Basel is becoming even more sustainable
With the aim of becoming Europe's environmental capital, Basel will apply to receive the European Green Capital Award 2025.
A sustainable city for exhibitions and conferences
Basel supports the climate-friendly staging of exhibitions and conferences and has been committed to sustainability for many years.
Thanks to its exemplary energy policy, Basel was once again awarded the European Energy Award Gold in 2018. The city has also been committed to the vision of a 2000-watt society since 2001. The goal is to reduce energy consumption gradually to 2000 watts per person.
Basel aims to increase its energy efficiency and promotes the development of renewable energy and environmentally compatible mobility:
100% of its power consumption is covered by renewable energy sources.
Basel has above-average public transport connections. A bus takes passengers from EuroAirport Basel-Mulhouse-Freiburg to the Basel city centre in just 15 minutes. Zurich Airport is 70 minutes by train from Basel.
In 2019, Basel was the first Swiss city to declare a climate emergency. As such, the Basel Parliament considers combating climate change a responsibility of the highest priority.
Basel is an Energy City Gold, which is continuously working towards the efficient use of energy, climate protection and renewable energies.
The Basler Verkehrsbetriebe will convert its entire bus fleet to electric mobility by 2027. This makes it a pioneer in Europe.
Basel is a certified "city on the path to the 2000-watt society".
It has set itself the goal of reducing annual carbon emissions to one tonne per inhabitant by 2050.
Hotel guests receive a free BaselCard, which allows them to use public transport for the entire duration of their stay – an effective measure to limit individual transport. In addition, the BaselCard can be used to rent an e-bike for only CHF 20.00 a day.
Basel takes ecological, economic and social aspects of sustainability into account in many other areas:
Basel wants to promote sustainable, fair consumption and is seeking the distinction of being a Fair Trade Town.
To promote sustainable food, Basel has signed up to the Milan Urban Food Policy Pact.
Basel is a member of the C40 Cities Climate Leadership Group and ICLEI city networks, which support projects and campaigns for sustainable urban development.
The Congress Center Basel's online climate calculator provides organizers with an overview of the climate impact and carbon footprint of their event. They can offset their emissions by supporting individually selected climate protection projects.
Basel Tourism is Swisstainable
Switzerland is already a pioneer in matters of sustainability – not only in terms of the landscape but also thanks to its outstanding infrastructure. Swiss cities make a good case for being sustainability superstars due to the spatial proximity of their points of interest in particular. Nowhere else in the world are the attractions, cultural institutions, restaurants, insider tips and opportunities to shop closer together.
This is also the case in Basel, and that is precisely why the city is eager and motivated to further develop and promote the destination in terms of sustainability. All of this is to happen not only within the Basel Tourism organization but also in close collaboration with the city and canton as well as various tourism service providers and stakeholders. Positioning Basel on a lasting basis as a world-renowned smart city is the objective that drives all partners and contributors.