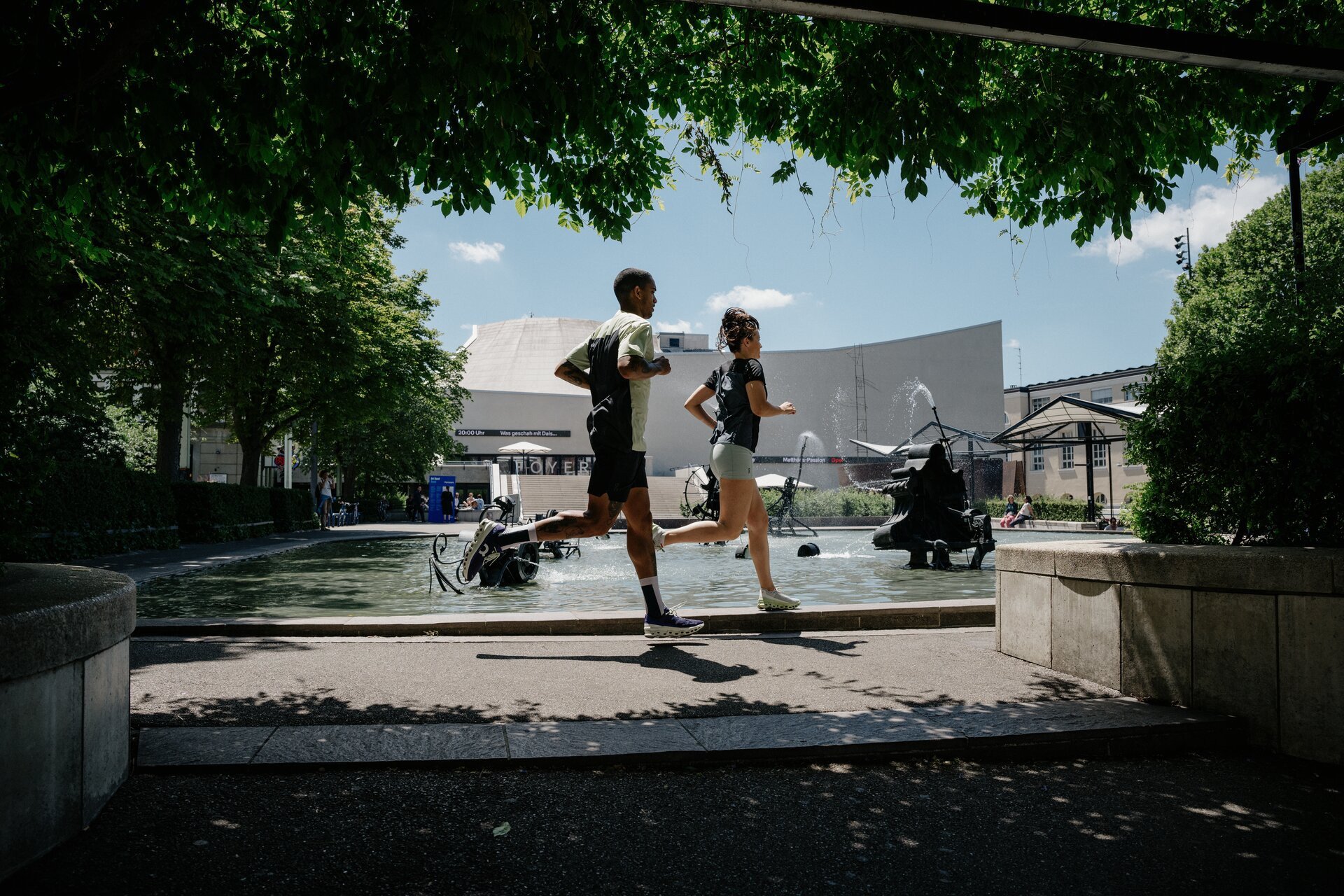 3
jogging routes in Basel
Lace up your jogging shoes and head out on a run through Basel – the city of art.
Nothing is ever far away in Basel, where contrasts abound within small spaces. Basel is old and new, bustling and calm, hip and traditional – a city just made to be explored on a leisurely or more strenuous run. You're sure to find plenty of inspiring items to add to your bucket list en route.
The running-shoe experts at On sent Mike to Basel to find the best jogging routes. And Mike made a great job of it, discovering three courses of varying difficulty, all of which have been captured on video for you. There's even a surprise appearance by Roger Federer, who talks about "his" city during the film.
Harbour to Old Town – 5 km
The Rhine, which has shaped the city from the start, is omnipresent here. One of the many highlights on this "upstream" run comes shortly after you set off from the tri-border area – Holzpark Klybeck shows you the wild, funky and creative side of Basel. After crossing the Dreirosenbrücke bridge, you're greeted by the spectacular Novartis Campus on the right before the route takes you through St. Johanns-Park and then to the city centre via Totentanz.
Places you'll see on this route:
The starting point is easy to find – this run begins between the Museum Tinguely and the imposing Roche Towers. And it's not long before you reach a veritable Basel institution – the ferry gives you a chance to grab some air for the detour to the famous Basel Cathedral (Münster). Next up is a section of the route rich in variety, taking you across the railway station's skywalk and then to the Dreispitz site – one of the most fascinating urban development areas. The final stretch takes you to the Vitra headquarters in Birsfelden via St. Jakob-Park stadium.
Places you'll see on this route:
The longest route is pretty challenging. Luckily, this course leading through Kleinbasel and out towards Riehen is incredibly rich in variety. Shortly after setting off from Rheinweg, the route takes you through the Lange Erlen Animal Park before following the course of the Wiese until Fondation Beyeler comes into view. You'll need plenty of stamina on the way back. Back alongside the Rhine, the impressive turbine hall at the Birsfelden power plant soon appears. At Museum Tinguely, the Schwarzwaldbrücke bridge then takes you to the Grossbasel bank of the river, where you pass the Basler Papiermühle (Basel Paper Mill) on the way to the Wettsteinbrücke bridge. After crossing the Rhine again here, there's a quick detour to the old Warteck brewery before you reach the "finish line" in the heart of Kleinbasel.
Places you'll see on this route:
One city – endless discoveries