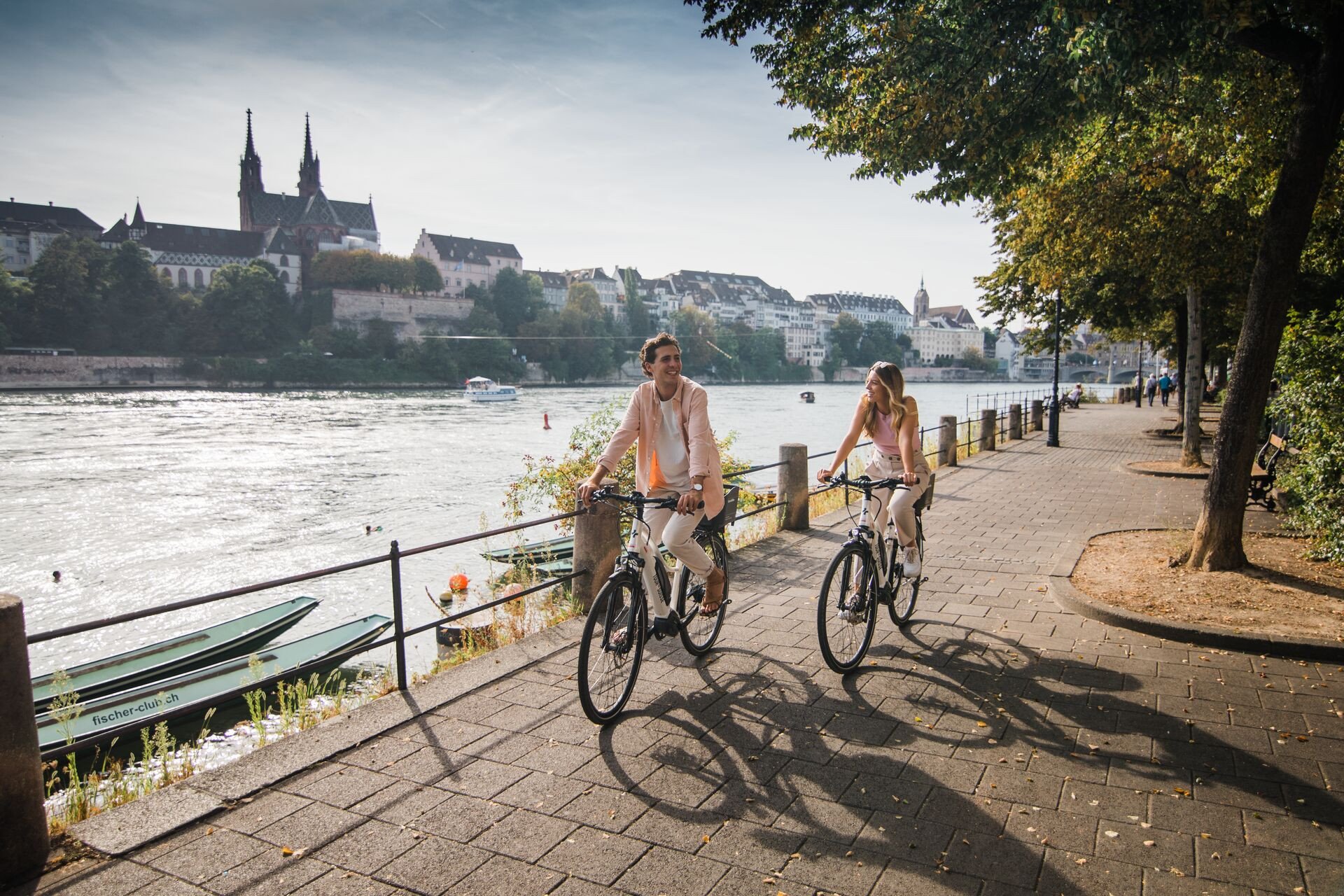 Sport and exercise in Basel
Sport and sightseeing at the same time? Basel is the perfect place for this. You too can explore the city by bike, on a run or even while swimming.
You'll find a wealth of tips for sporting activities in Basel right here:
5 top tips for sport in Basel
Cycling
Cycle leisurely from one place of interest to the next on your bike or e-bike, with Basel's green recreational areas just a stone's throw away. Incidentally, roads marked "Velostrasse" are especially safe and suitable for cyclists; cars are also allowed here, but there's a 30 km/h speed limit in force.
Other bike tours in Basel and the region
Hiking
Hiking is one of the most popular sporting activities in Switzerland. And not just in the mountains!
Basel is the starting point for many hikes, ranging from leisurely strolls to pilgrimage trails. Neighbouring Baselland has a wealth of attractive hiking trails offering panoramic views and is well worth a visit at any time of year, but particularly when the cherry trees are in bloom.
Other hiking trails in Basel and the region
Jogging
Locals particularly love jogging in the most scenic parts of Basel, which for most runners means alongside the Rhine. So it's hardly surprising that the three best jogging routes follow the banks of the river.
Basel's Marktplatz is the start and finish line for an annually held half-marathon. In this tri-border race, the runners cross into France and then Germany before heading back to Basel.
City Run Basel takes place every year in the pre-Christmas period.
Gyms and sports halls
Basel has so many gyms that you're sure to find one near your hotel.
| | |
| --- | --- |
| Yoga (with classes in English) | |
| Boxing | |
| CrossFit | |
| Squash and indoor tennis | |
| Skateboarding and BMX | |
| Bowling | |
Water sports on the Rhine
| | |
| --- | --- |
| Wakeboarding and waterskiing | |
| Canoeing | |
Other skating routes in Basel and the region
Outdoor sports facilities
| | |
| --- | --- |
| Tennis courts | |
| Fitness trails | |
| Street workout parks | |
| Wood-chip trails | |
| Skateparks and pump tracks | |
| Football, volleyball, basketball | |
| Golf courses | |
| Minigolf courses | |
One city – endless discoveries