Transport partners
Whether for transfers to the airport or harbour, guided city tours or day trips: Basel Tourism offers you bus transfers for your event in cooperation with its partners.
All of our bus partners offer modern equipment and maximum safety, whether for a small group of passengers or a large conference.
Would you like to be accompanied on your journey? Our guides will meet you at the place of your choice and accompany you in your rented bus to your destination. And you have the opportunity to ask the Basel experts your questions about our city.
Busmiete.ch
Thanks to Busmiete.ch you can explore the most beautiful attractions in Basel and travel comfortably and conveniently to Switzerland's top locations and neighbouring countries. Whether you want to visit Lucerne, Colmar, Strasbourg or Freiburg, Busmiete.ch will drive you and your guests to your chosen destination. Would you like a shuttle service after a tiring day at a trade fair? Busmiete.ch will be happy to provide you with exactly what you need. Sightseeing is also covered: BaselCitytour offers informative and entertaining bus tours around the city centre. During the course of the 90-minute tour, you can hop on and off at any of the 20 or so stops to explore the main attractions in the traffic-free city centre.
Charter the perfect bus to suit your group. From small nine-seaters to coaches seating 50 people – choose your perfect vehicle from our fleet of 40 buses.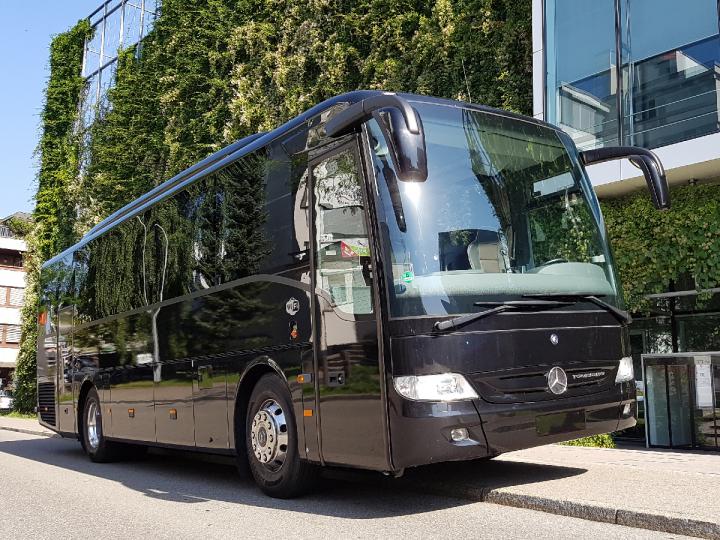 Robert Saner Carreisen AG
Robert Saner Car Reisen AG will transport you and your party safely, punctually and comfortably to your destination, and has been operating for 100 years. All buses have state-of-theart fixtures and fittings and conform to the highest safety standards. Are you planning an event ? If so, Robert Saner Car-Reisen AG will be pleased to offer you a customised and professional service. You can rest assured that the organisation of your corporate or private event for up to 1,000 people will be in great hands – from the initial idea right through to the implementation.
Robert Saner Car Reisen AG will also help you organise your flights and / or river cruises and has many years of experience in various countries.
Settelen AG
Settelen AG is a traditional, well-known company based in Basel. Its services include all types of passenger transportation and event logistics. Thanks to its modern fleet of vehicles, Settelen AG can flexibly address your individual needs and offer customised solutions. The company's drivers are always well presented and courteous, and flexible services are guaranteed at all times. Settelen AG transports all of its passengers safely, reliably and punctually to their destination, regardless of whether the booking is for a small tour group or up to 2,000 conference guests. You can rest assured in the knowledge that the company has more than 135 years of experience.
Settelen AG offers the following services: shuttle services, meet & greet, transfers, limousine services, city tours, day trips and multi-day trips.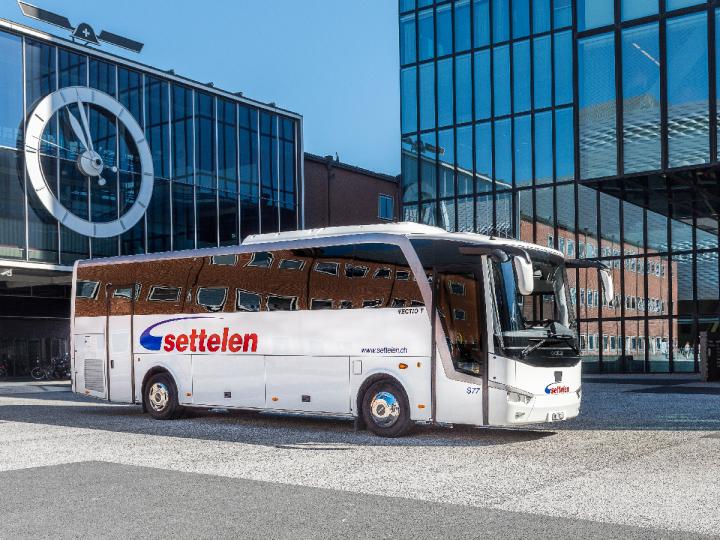 Eurobus
As the biggest private bus company in Switzerland, Eurobus has many years of experience in providing comprehensive road transport services. Eurobus has considerable expertise in the events field and supports its customers all the way through from the initial idea to the successful implementation. Do you have an idea for an event, seminar or conference ? The event professionals at Eurobus guarantee a customized service. With a total of eight locations across Germanspeaking Switzerland, Eurobus is never far away and will transport you and your guests safely and reliably from A to B.
With around 260 vehicles to its name, Eurobus has the largest and most diverse fleet of buses in Switzerland. Whether you're booking an event for 8 people or 10,000, the company has the right vehicle for you – from minibuses to luxury VIP coaches.